Playmat and quality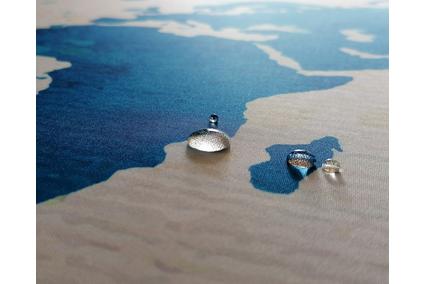 It is difficult to form an opinon about something that you can't  touch , have a look at or in our case unroll it on a table to have an idea what it is like when you get it. People do not generally know the fact that touching something  for the first time to get a better idea on it counts a lot more than reading ten sentences about something  . That's the reason why we are in trouble to describe what these playmats really look like ,so we would rather try to list some factual information about them.
These 3 mm thick playmats are made with stitched and printed edges. This 3 mm thickness is something important because we focused on a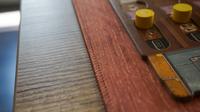 2 mm thickness at the beginning. This 2 mm thickness for large sizes was not proved to be enough for dimensional stability in the long run. They tend to get curled along the the edges and their stability isn't perfect.
In fact, we have already tried our best to force on the material, we were hard on our playmats , we stretched the edges to check to what extent stitching and  fabric last. We have done our best  about them so you do not need to do the same J
As for the printed sewing, they add aesthetically a lot to the overall picture . They are also necessary to prevent the material from fraying.
They are made with non-slip natural rubber backing to keep playmats from shifting during use and makes them flexible enough. On the one hand, the extra soft water repellent fabric top allows nice printing, on the other hand, it feels so good to play on it!
You should imagine their design like the ones of classic mouse pads , but these playmates are made with high-quality materials.
As these playmats are made with waterproof fabric, anything that drops on them can be easily sponged up and the game can go on without having to bypass the wet spot.Clean them with a lukewarm wet rag or eventually with some mild detergent . Just let it dry and it is done.
What we love most about them is that any spills during the game can be sponged up and the game keeps going on the same spot, there is no need to move the pieces.
We keep them rolled up , in a cylinder, but make sure not to let the playmats "crinkle" by something for long , as the rubber tends to keep this crinkle and later on it might need ironing . Even though they can actually be crinkled shortly  without any deformation , (surface) pressure lasting for days or weeks might keep its mark on them.
If you want them to perfectly fit your tables , roll them up with patterns up , but it is also fine with their rubber backing up.
Playmats might be crinckled during shipment or in case they have been rolled up for a while, therefore they might be a bit curled when unrolled. This is absolutely normal for all kinds of rolled up products . They will get uncreased during use and their 3- mm –thick material tolerates it.
Let me tell you carefully that they can be ironed as well, but it is worth taking some pieces of advice before. Their material is able to resist to hot temperatures if heat is gradually adjusted  and even steam ironing is possible. Make sure not to start ironing them with the maximum temperature since they might get burnt. Adjust temperature step by step .
Using some cloth  for protection during ironing ( such as silicone baking sheets according to my partner…J )   is even safer, but not mandatory. If larger creases can be seen, rubber backing can be safely ironed with some protecting cloth.  An average household iron can't burn the rubber.
Although  dimensional accuracy is not actually a quality related issue ,it needs to be mentioned . According to production technology, playmats are exposed to heat when artwork is put on them. As a result, rubber backing and  fiber surface might alter their size, they likely shrink a bit. We can't foresee to what extent they will shrink  as it depends on a lot of things . That is reason why it is difficult to define it clearly. Frankly spoken , the sizes of  playmats can differ from their "official" size in 0,5-2 cm.
The mentioned sizes of 140x80cm  and 120x70cm refer to the minimum table size it is worth laying them on.  Due to the above mentioned technology we are not able to promise you an exact size.
There is another thing to mention. During trial production, some of our thicker playmats were emitting a stronger smell of rubber that was slowly weakening and finally went away with time. This is a completely natural process with rubber surfaces of such size, however, it is worth keeping them unrolled during  some days to help smell get away.
This phenomenon has not happened lately, our currently produced playmats are OK, but you never know.
Playmats are such great inventions, enhance gameplay experience!